I'm an old fogey, I'll admit it. Hi, my name is Lee Torre, I'm 34 years old and I've been spoiled by the GREATNESS of Herman Moore.
I'm a little pissed that the Detroit Lions have decided to adorn the new rookie WR Ryan Broyles in Herman Moore's classic #84. I tried not to let it bother me, but deep down inside it just does.
I know the NFL chooses not to recognize most Detroit Lion's greats from the latter half of the 20th century that aren't named Barry Sanders, but why are our beloved Detroit Lions following suit? What the heck?!?
Judging greatness is mostly an unscientific procedure. It's simple, you see greatness and you just KNOW that it's greatness. Well as a young, lanky Detroit Lions fan growing up in the D, I got to see greatness, not only in Barry Sanders but in all of the 6'4″, 218 lbs frame of the velcro-handed, 3rd down ball-catching, scooping "Mitchell balls" off the turf, Lions great Herman Moore. A.K.A. # 84.
The fact that another new guy is going to wear the #84, well… I just don't like it, and it's not the first time Herman's number has been given out. I didn't like it when a scrub like Shaun McDonald wore it and I didn't like it when a stud like Brandon Pettigrew wore it(early in his career). It's not right.
The Detroit Lions organization needs to have more pride in their LEGITIMATELY great players of the past, if they don't then who will?

Again, If the Detroit Lion's don't respect their greats, then who will?
Herman Moore, like Chris Carter is not in the NFL Hall of Fame. I'm not going to say that he deserves it, but he's better than some players that are in there. But even without the Hall of Fame, Herman's number 84 with the Detroit Lions should be retired. PERIOD.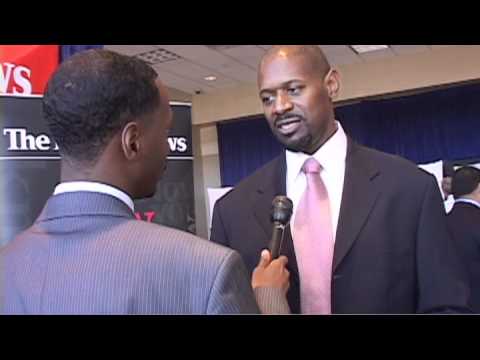 Herman Moore One Of The Best WRs Of The 1990′s
Herman Moore was every bit as dominant as Michael Irvin, but you won't hear that too often will you?
Why?
One of the problems with the hack media and know-nothing fans judging greatness is that many people judge on the basis of how many rings a player has. This is flawed logic because greatness does not always lead to championships. Is anyone going to arguee that Charles Barkley and Dan Marino weren't great? Well, actually I know there are some folks that would try to argue that so never mind that.
To accurately judge Herman Moore's greatness you only need to look at his accomplishments, stats, environment and skill-level. The poor guy had Scott Mitchell throughout the peak of his career for goodness sakes! But he still…
Made first team All-Pro in 1991 and second team All-Pro in 1992 and 1993.
Was a big part of the Detroit Lions going to the playoffs in '91, '93, '94, '95, '97, and '99.
Earned 1st team All-Pro for 1995, 1996 and 1997, as well as 2ND team All-Pro honors in 1994.
Was selected to 4 Pro Bowls from 94-97.
Set an NFL record with 123 catches in 1995.
Led the ENTIRE NFL in pass receptions in 1997 and became the second player, outside of Jerry Rice, to have three straight 100-catch seasons, from 1995-1997.
At 6'4″ Herman Moore could break tackles and run after the catch, and he consistently caught passes over the middle. He was as tough and sure-handed as they come. He would take his big and tall frame down to the ground and scoop up poorly thrown 3rd down passes as if they were nerf balls tossed by a 2 year old. WITHOUT Herman Moore, the Lions would have sucked in the 1990′s because defenses would be able to stack everything against Barry.
For his career, Herman Moore accumulated 8,664 yards, 626 receptions, 59 TDs (one more TD in the 90′s than Michael Irvin by the way…)
No Disrespect To Ryan Broyles – It's Just Getting Old
I think Ryan Broyles could turn out to be spectacular and I'm rooting for him 100%, I am just tired of the Lions letting others throughout the league dictate to them who is great and who is not. They have seen these Lions players play just like you and I have!!! It's weak of them not to honor their own legacy. The Detroit Lions should retire Herman Moore's #84. Same thing goes for Chris Spielman's #54.
But what do I know? I'm just a know-it-all fan, right? GOOOOOO LIONS!!!!! Super Bowl 2012!!!
Detroit Lions Fans - Share Your Thoughts!
comments