When it comes to Jahvid Best, I'm left only able to hope for the best, literally. And from talking with fellow Lions fans constantly, I get the clear indication that they are not expecting much from Jahvid as far as staying healthy is concerned either. But again, they are hoping for Best.
Strangely enough, I found encouragement from the fact that the Lions did not feel the need to draft another running back or sign one in free agency. Clearly, even with all of their medical experts on hand, the Detroit Lions have confidence in a healthy and concussion-free Jahvid Best in 2012. But do you?
Unfortunately, I don't have any sense of ease when it comes to the dynamic Lions running back. BOY, do we ever need this guy on the field consistently, it would be CRAZY!!!
General manager Martin Mayhew says that Jahvid will be cleared to participate in full contact drills when they start up.
"Those doctors felt like it just made sense to do that in June," Mayhew said. "It gives him the most time. "We are not doing anything that involves any contact and he's been cleared to do everything that we're doing right now and he'll be officially cleared for contact in June."
Hoping On Hope
Jahvid Best is talented enough to be a top 10 running back, it's really that simple and plain. This guy is electric on the football field. Do you remember this kid's rookie start? Best rushed for 555 yards and four touchdowns as a rookie, plus had 487 receiving yards and two touchdowns. The amazing thing about it is that most of that rushing production came in the first FIVE GAMES! Don't kill me for saying this, but he was playing well enough to be called "baby Barry". He is a human highlight reel when playing,  but that's where the problem lies.
As far as talent is concerned he was worth every bit of the Lions' efforts to trade up for him in 2010. But can he stay healthy? Only time will tell and it looks like his story will either end in triumph or tragedy.
Best missed 11 games last year after playing against the idiots known as the San Francisco 49ers, and that was after suffering through a gauntlet of injuries his rookie year as well. (Screw Jim Harbaugh and the 49ers by the way…)
As a fan, I'm just not believing in Jahvid's health until I see it, and it's sad because he is truly an amazing talent, the guy is a freakish athlete. If he could stay healthy for a whole season, this team is without a shadow of a doubt a legitimate and STRONG Super Bowl contender. With Jahvid Best being able to play the lightning to Mikel Leshoure's thunder, we as fans would be in for a major treat. Enough to make you happy in your pants and do a stupid dance, SUPER happy… It's vitally important to have a healthy running back crew for this Super Bowl run.
Detroit is pulling for you Jahvid! Here's to hoping for the Best!
Video of Jahvid's Original Concussion In College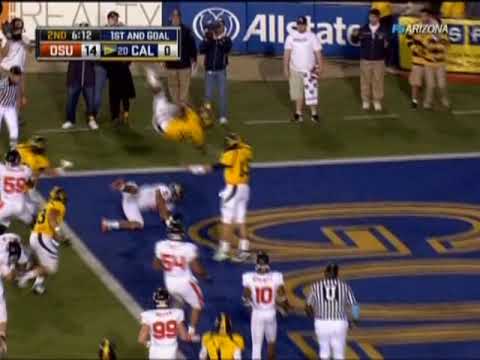 Related articles
Detroit Lions Fans - Share Your Thoughts!
comments